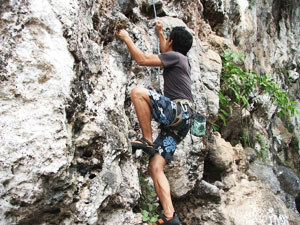 At its most basic, rock climbing involves climbing a route with one's own hands and feet and little more than a cushioned bouldering pad in the way of protection. This style of climbing is referred to as bouldering, since the relevant routes are usually found on boulders no more than 10 to 15 feet tall. As routes get higher off the ground, the increased risk of life-threatening injuries necessitates additional safety measures. A variety of specialized climbing techniques and climbing equipment exists to provide that safety, and climbers will usually work in pairs and utilize a system of ropes and anchors designed to catch falls. Ropes and anchors can be configured differently to suit many styles of climbing, and roped climbing is thus divided into further sub-types that vary based on how their belay systems are set up. The different styles are described in more detail below, but, generally speaking, beginners will start with top roping and/or easy bouldering, and work their way up to lead climbing and beyond.

Tips for spotting
Communication- Both spotter and climber need clarity. Never assume that you're spotted, always check before you start climbing.
Pad arrangement- Bouldereers can roll ankles on poorly placed pads, so watch for aps, tangle-pronge straps, sharp objects, and uneven landing zones.
Spotter's stance- Have the mindset that as a spotter, you have the climber's life in your hands. Stand closely behind the climber with your elbows crooked and hands by his waist. Put your dominant foot forward and slightly bend your knees. Discern where the climber might fall, and be ready to move quickly.
---
Top-roping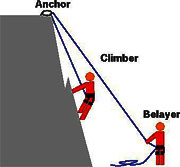 In top-roping, an anchor is set up at the summit of a route prior to the start of a climb. Rope is run through the anchor; one end attaches to the climber and the other to the belayer, who keeps the rope taut during the climb and prevents long falls. At the point where the rope is attached to the anchor, a device that causes extra friction is often used to reduce the overall strain on the system in the event of a fall.
---
Lead climbing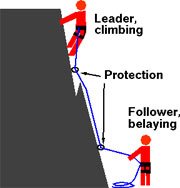 In lead climbing, one person, called the "leader", will climb from the ground up with rope directly attached (and not through a top anchor) while the other, called the "second", belays the leader. Because the climbing rope is of a fixed length, the leader can only climb a certain distance. Thus longer routes are broken up into several "pitches". At the top of a pitch, the leader sets up an anchor, and then belays the "second" up to the anchor. Once both are at the anchor, the leader begins climbing the next pitch and so on until they reach the top. In either case, upon completion of a route, climbers can walk back down (if an alternate descent path exists) or rappel (abseil) down with the rope.
---
Grading systems
Climbing communities in many countries and regions have developed their own rating systems for routes. Ratings (or "grades") record and communicate consensus appraisals of difficulty. (Hence, there may be occasional disagreements arising from physiological or stylistic differences among climbers.) The ratings take into account multiple factors affecting a route, such as the slope of the ascent, the quantity and quality of available handholds, the distance between holds, and whether advanced technical maneuvers are required. Though acrophobia (the fear of heights) may affect certain climbers, the height of a route is generally not considered a factor in its difficulty rating.
---
Climbing environments
Climbs can occur either outdoors on varying types of rock or indoors on specialized climbing walls. Outdoors, climbs usually take place on sunny days when the holds are dry and provide the best grip, but climbers can also attempt to climb at night or in adverse weather conditions if they have the proper training and equipment. However, night climbing or climbing in adverse weather conditions will increase the difficulty and danger on any climbing route.
---
Bouldering
is a style of rock climbing undertaken without a rope and normally limited to very short climbs so that a fall will not result in serious injury. It is typically practiced on large boulders or artificial man-made boulders. However, it may also be practiced at the base of larger rock faces, or even on buildings or public architecture.
---
Bouldering Basics
A climber with chalked-up hands and a crash pad on the ground. Bouldering is a style of climbing emphasizing power, strength, and dynamics. Its focus is on individual moves or short sequences of moves, unlike traditional climbing or sport climbing, which generally demand more endurance over longer stretches of rock where the difficulty of individual moves is not as great. Boulder routes are commonly referred to as problems (a British appellation) because the nature of the climb is often short, curious, and much like problem solving. Sometimes these problems are eliminates, meaning certain artificial restrictions are imposed. To reduce the risk of injury from a fall, climbers rarely go higher than 3-5 meters above the ground. Anything over 7 meters is generally considered to be free-soloing (or simply 'soloing' in the United Kingdom), although such climbs might also be termed high-ball bouldering problems. For further protection, climbers typically put a bouldering mat (crash pad) on the ground to break their fall. Lastly, climbers often have one or more spotters, who work to direct the climber's body toward the crash pad during a fall, while protecting the climber's head from hazards. Bouldering is increasing in popularity; bouldering areas are common in indoor climbing gyms and some climbing gyms are dedicated solely to bouldering. Children are joining the sport now as well as adults. In fact, studies have found that young climbers develop better skills as adults from their experience with youthful disadvantages such as height and strength.